home
---
---
Adventures in Mandriva 2008, part 1: Wifi
01:12am EST, 30 Dec 2007
So I still find myself clinging to Mandrake, years after they started buying other distros, got a ridiculous name, and were outshined as the darling of community distributions by Ubuntu and even PCLinuxOS, itself a Mandrake spinoff.
But I'm comfortable with urpmi, so here we are.
I helped a friend install Mandriva 2008.0 on her Acer laptop. The install went smoothly until we encountered something that had been a minor annoyance in 2007.1 and became a bigger problem in 2008: the Broadcom bcm4318 wifi adapter. more...
---
stupid web browser tricks
02:33am EDT, 24 Jun 2007
Stupid.... yet so cool.
---
lollerskates
04:44pm EDT, 22 Aug 2006
Does the above title invalidate the below?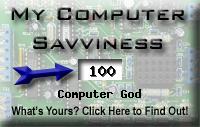 ---
gambas 1.0.16 and 1.9.31 rpms for mandriva
01:57pm EDT, 29 May 2006
Catching up on Gambas releases, here's the stable 1.0.16 and unstable 1.9.31 versions. Lots of new stuff since the last unstable package, including an official MDI version of the IDE with a new editor control, the ability to edit the controls' tab order using the hierarchy window, the much-needed ability to nudge controls on forms using the arrow keys, updates to the language itself, and like a hundred bug fixes. more...
---
gambas 1.0.14 and 1.9.25 rpms for mandriva
05:45pm EST, 21 Feb 2006
OK, I've been packaging stuff all this time but wasn't updating the blog. I just made packages of Gambas 1.0.24 (stable) and 1.9.25 (development) for Mandriva 2006. more...
---
GIMP palette for Mario Kart DS emblems
01:30pm EST, 17 Nov 2005
I've been trying to come up with an emblem for my kart in Mario Kart DS. The icon editor in MKDS is surprisingly full-featured, but you only get 1024 pixels (32x32) in 15 colors plus transparency. more...
---
I'm back
12:44am EST, 11 Nov 2005
Or rather, I finally got my new server going. Um, enjoy.
---
Firefox "View Selected" extension
11:51pm EDT, 6 Aug 2005
This isn't new, but for some reason Mozilla Update doesn't like it. View Selected simply opens a new browser window and displays the selected text (actually, the smallest amount of valid HTML that includes all of the selected text.) more...
---
gambas 1.0.9 packages
02:16pm EDT, 21 Jul 2005
This new stable version of Gambas is primarily a bug fix release. more...
---
Nintendo DS games: the story so far
02:21pm EDT, 11 Jun 2005
Most game reviews are written by people who have only had the games for a few days to a week. Well, it's been about a month since I bought any Nintendo DS games, and I've had a couple of them for 6 months. I have 7 altogether, including the Metroid Prime demo that came with it, and I guess I'll also do Pictochat which is built in. Some I've finished, some I haven't, but I've played them all for hours and hours. I think that makes me qualified to say whether I think they're any good. more...
---